We propose the Didiesse Frof coffee machine wholesale for a simple reason: in recent months in Italy is not one of the best but THE best coffee machine of the economic segment, thanks to its extremely satisfactory quality-price index.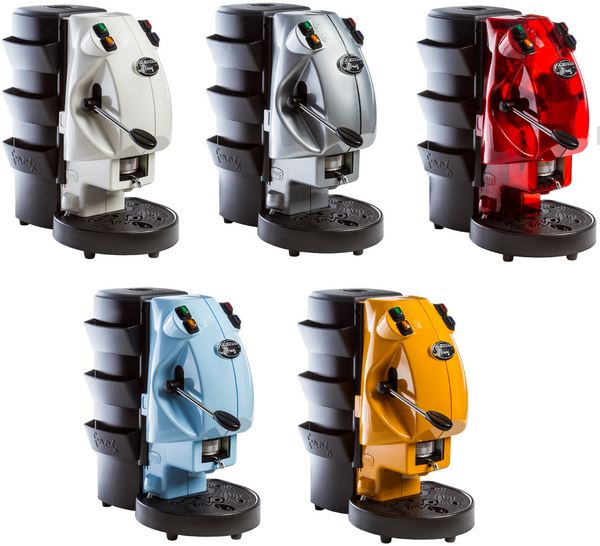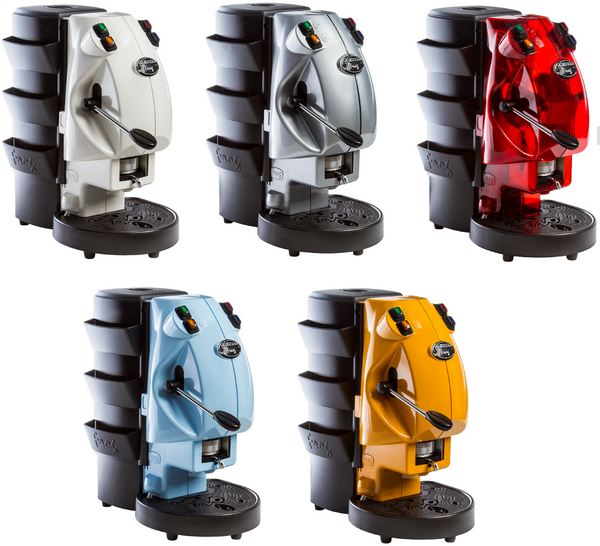 It is not a coincidence if the retailers located throughout the country sold every month tens of thousands of this coffee machines.
All the people who buy it remain satisfied and recommend this coffee machine to family and friends and often buy other as gifts, perhaps during holidays or special occasions.
In its new version, improved in the delivery and mechanics, the Didiesse Frog espresso machine with pods denotes its unique design and practicality.
The Didiesse Frog is not only beautiful to see as if it were a piece of furniture, it is also easy to handle, functional, easy to use and easy to clean.
It works with standard paper pods (ese diameter 44) and can also be equipped with accessories (container for storing pods, shots, cups, sugar packets and tablespoons).
The vaporizer or steam wand are always sold separately (for the frog vapor) with hot water option, useful for example to heat the milk or to prepare not only coffee but also the cappuccino or the soluble drinks and filter (tea, herbal teas, etc.).
Other options are: micro pump, resistance with power of 1200 Watts and related thermostats (pilot thermostat and safety thermostat).
It's extremely compact and it measures a width of 22 cm, a height of 40 centimeters, and a depth of 32 cm, with a weight of 6.5 kilograms.
Data sheet
Rated power 650 watts, voltage 220 volts at 50Hz, pump pressure 15 bar.
It's equipped with an aluminum heating block and with a quick descaling system, and instead of the traditional tank has a practical compartment for the bottles.
It surprises for the wide range of colors in which it's provided, that are well 16, which makes it adaptable to any type of furniture and aesthetics of any room, from the classic to the most modern.
You can have it in the following colors: Black, White, Ivory, Orange, Blue, Satin Black, Red Transparent, Glossy Red, Pink, Yellow, Light Green, Dark Green, Purple, Fumé.


nother strength that works in favour of the Didiesse Frog is that it's perfect both for the domestic market and for the business one; the company which produces them is the trademark and Caffè Borbone owner, one of the most appreciated in Italy.
L'Aromatica Srl has managed to produce a machine able to prepare, especially when used with the Borbone pods, an espresso that has nothing to envy to the coffee people usually drink at the bar, perfect for its aroma, taste, creaminess and fragrance, a good coffee with any brand of pods.
Are you looking for Didiesse Frog coffee machines wholesale at the best price? Contact Us!
We are the suppliers with cheaper price list ever, accessories and coffee machines parts.
Call us at +390733288455, from Monday to Friday from 8.00 a.m. to 12.30 p.m., in the afternoon too from 2.30 p.m. to 6.30 p.m.
Or
Click here and send us an e-mail. You will receive response within 24 hours.