Surely, between our wholesale coffee machines, la Piccola has an eminent position. In fact, many features make it one of the best coffee machine among the compact.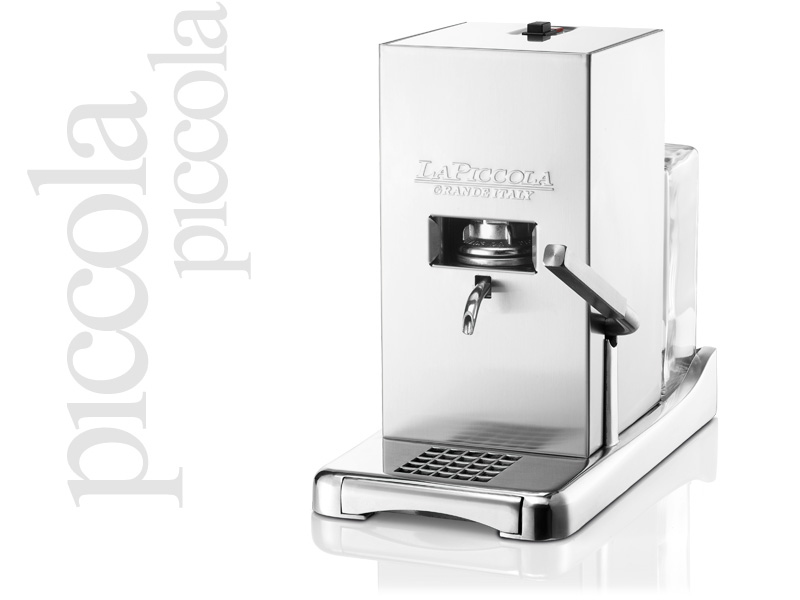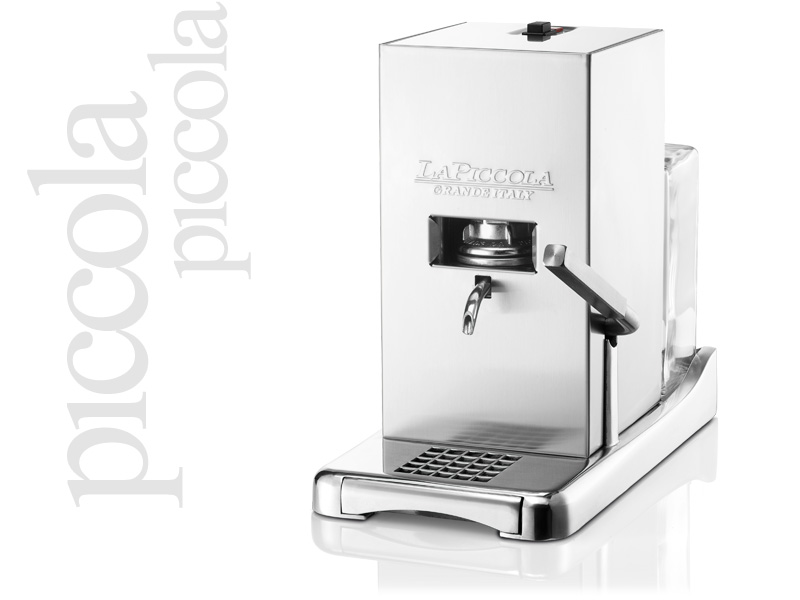 It was designed to be transported easily and it's meant to have a long shelf life.
Indeed, in addition to its small dimension, it's made entirely of steel (including the handle), both outside and inside, and it's composed of a monoblock which makes it more solid and easy to handle.
The mastery of the designers and engineers who have designed it, the high quality components used to build it, the particularity of his boiler, allow to extract an extremely good and tasty coffee as the best espresso of the bar.
The espresso machine in question has a practical drip tray for an easy cleaning.
It consumes very little electric current, because it's equipped with a special system that allows to optimize the energy consumption.
The typical problem found in other similar appliances, regarding the formation of limestone in the water tank, it's almost entirely absent.
This is because you can connect it to a tank or a bottle that can be replaced at will and without additional costs.
Optionally you can buy separately an elegant scratch proof hard case in ecological leather and accompanied by a zipper, handles for the carriage and comfortable elastic accessory holder.
The small size of this coffee machine allows it to be easily transported (the smaller high-quality coffee machine on the market, the only truly portable), perfect even where the space is reduced.
Data sheet of La Piccola coffee machine
Dimensions: height 25 cm, length 15 cm, depth 22 cm;
Weight: 5 kg;
Voltage: 230 V / 50 Hz – 120 V / 60 Hz;
Power consumption: 500 watts;
Pump power: 15 bar;
Optional tank: 1 liter.
It also has a safety thermostat and it's also available with argyle decorations (piccola perla version) and golden (piccola gold version), as an alternative to stainless steel color.
La Piccola is a pretty technological jewel that has nothing to envy to professional machines.
It works with standard paper pods ese 44 and is equipped with a special antibacterial filter that prevents the formation of limestone and odors that could affect the coffee flavour.
Among the accessories available, in addition to the hard case, there is also a glass ampoule with a very special design. It allows you to have an easy to clean tank which suit with the coffee machine, to get a water supply of one liter sufficient to prepare thirty coffee.
Are you searching for wholesale La Piccola coffee machines at the best price? Contact us! We are the retailers with the best prices.
Call us at +39 0733288455, from Monday to Friday from 8.00 a.m. to 12.30 p.m., in the afternoon too from 2.30 p.m. to 6.30 p.m.
Or
Click here and send us an e-mail. You will receive response within 24 hours.