Spinel Ciao coffee machine with pods (paper filter ESE 44mm diameter), revolutionizes the concept of espresso machines for domestic use.
Characterised by an original and attractive design, it reveals its nature of high-quality household appliances made in Italy, the result of the creativity and technical skills of the team that carried it out, working in symbiosis with internationally renowned designer.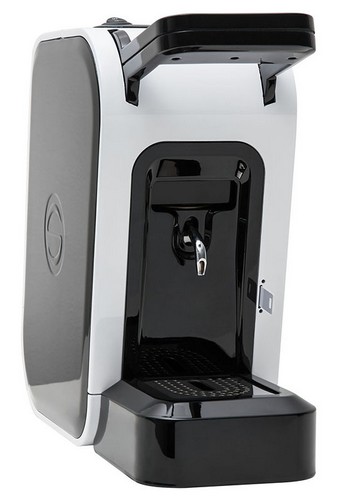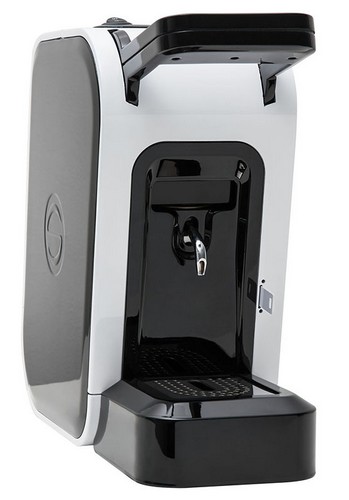 Spinel Ciao italian espresso machine
Made to last and with the most modern technological devices, it allows you to get a gourmet coffee.
Among the unique features that distinguish it from similar devices manufactured and marketed by other companies, the energy saving system should be stressed (Energy Saving) that reduces the power consumption when the espresso machine stays on without being used.
The water tank of this coffee machine is replaced by an innovative straw to be inserted in the common plastic bottles, in order to not to limestone residues as in the case of traditional tanks.
The new Self-Cleaning Patented Hydraulic system allows you to keep your coffee machine free from deposits that could affect the aroma and taste of coffee.
Other example is the central locking mechanism, able to ensure an optimum pressing of the coffee pods, which results in a perfect coffee brewed.
The coffee group is made of brass; the chassis is made of tinned plate, and gives strength to this coffee machine prolonging its life cycle because it avoids the formation of rust.
The ABS bodywork is easily removable, so that any maintenance interventions can be made in an easy and fast way.
The Spinel Ciao espresso machine is available in version only coffee, and on request can be fitted with the Credit Coffee System, sold separately, for the control of the coffee brewing (it allows the control of the brewing and the machine block of at the preset number of coffee).
Data sheet
Rated power: 400 watts;
Power: it's available in 230V/50Hz, 120V/60Hz, 100V/60Hz;
Thermal control: fixed thermostat at 95°;
Tank capacity: 0.5/1 liter (disposable plastic bottle);
Dimensions: 14 cm long, 33 cm deep, 30 cm high;
Weight: 5.35 kg;
Available in red, white and dove gray.
Spinel Ciao, as well as all the other espresso machines sold by our company, is carefully tested before being proposed to the retailers.
In this way we can check whether it's really valid, and be assured that not only the markets but also the users remain satisfied with our purchase.
Spinel Ciao is the new great little espresso machine with pods, ideal for domestic environments and the working ones (offices, laboratories, etc.).
Are you looking for Spinel Ciao coffee machines wholesale at the best prices?
Get in touch with us and discover our personalized price list for retailers. Guaranteed savings!
Call us at +39 0733288455, from Monday to Friday from 8.00 a.m. to 6.30 p.m., on Saturday from 8.30 to 12.30 a.m.
Or
Click here and send us an e-mail. You will receive response within 24 hours.