Lolita Spinel, between the wholesale coffee machines, is positioned in the middle segment and it's available in 3 versions: Coffee, Coffee and Steam, Coffee and Hot Water.
It's intended to users who are not content with the usual products: they are looking for a small espresso machine, pleasing in appearance and which lasts long.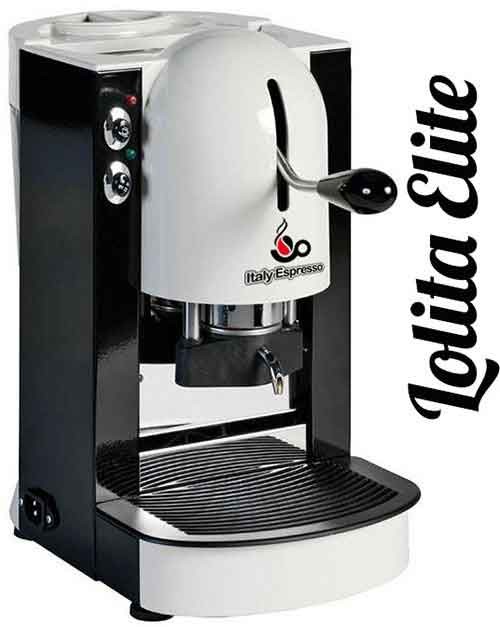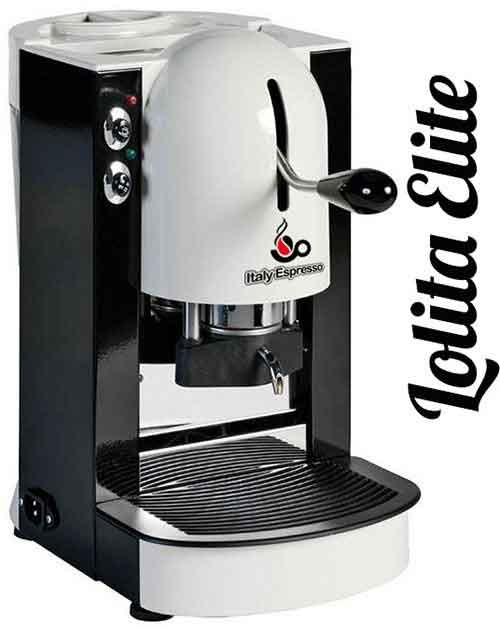 Suitable for intensive use, it fits well both in residential and in the workplace, and it's able to prepare true and inherent goodness in a cup worthy, as at the best bars.
Optionally can be purchased different accessories separately in order to have numerous features available in addition to the standard ones.
Available accessories
Little railing for cups: to place on top the cups and have them always hot, so that the coffee drunk is always intense and creamy, just as it happens with the professional machines;
Splashback: integrated with the drip drops, it's useful to use either normal or large cups (so-called mug) for large coffee;
Milk-frother: alternative or a substitute for the steam wand, this accessory is useful to prepare latte or cappuccino, with a thick foam as only professional bartenders know how to do. As an added complement, as an alternative to the milk frother, you can even buy the Pannarello that performs the same functions;
Milk-frother cleaner: an accessory to clean in a practical and easy way the milk frother and maintaining it sanitized after use;
Volumetric dosing: easy to program, allows you to adjust and store the desired amount of coffee, which will automatically be delivered in two different doses: Large Coffee or Short Coffee;
Pulses Count: it allows an immediate verification of the number of coffees the machine has dispensed, using a small analogue counter with 5 digits.
Credit Coffee System: it allows control of the brewing at the client and the machine block on reaching the preset number of coffee brewing.
Some accessories are applicable only on the Lola version Coffee and Steam.
The Coffee and Steam version has two separate groups that work independently and can be switched off when not in use, resulting in significant energy savings.
Spinel Lolita in the 24 Volt Coffee version is the model specifically designed to be installed on buses, boats, trucks, trailers and caravans.
Data sheet
Lolita espresso machine pods
Rated power: coffee unit 600 Watt, steam group 800 Watt, 1400 Watt at full load;
Power supply: available in 230V/50Hz, 115V/60Hz, 100V/60Hz, 24Volt;
Thermal control: thermostat fixed at 98 degrees centigrade;
Water tank capacity: 2 liters.
Dimensions: 20 cm wide, 32 centimeters deep, about 40 centimeters high (with the small railing).
The only coffee version weighs 7.7 kilograms, the coffee + steam model has a weight of 9.6 kilograms, the one with coffee + hot water 7 kilos and 800 grams.
Spinel Lolita is available in variants RAL 3002 red, RAL 9005 black, RAL 1013 ivory, steel.
Difference between the Lolita and Lolita Elite models: Lolita has the steel block, while the block of the Elite version is entirely of brass.
Spinel Lolita Coffee Machine: distinctive features
The salentine company that realizes the Lolita and many other espresso machines for domestic and professional use (bars, restaurants, etc.), has equipped this small technological jewel with several unique and patented features.
It has a special system owner central locking compression of the wafer, able to optimize the infusion of the extract and to maintain intact all the distinctive properties that characterize the coffee in the moment of brewing.
To prevent any drips will dirty the base, it has been equipped with a suitable binder (drip tray with a red float for signaling the fill level) much more capacious.
The water tank is made of transparent polycarbonate, in order to always keep under control the water level present in its interior, it's located in the back and it's equipped with a cap located at the top that avoids unnecessary disassembly steps for the refill.
The loading and ejection of the pods are also exclusive, that occur automatically.
There is also an appropriate compartment designed to collect and retain the coffee pods (capacity: 30 pods).
Lolita Spinel is also easy to clean thanks to a special self-cleaning system that prevent rust, limestone and prevents unpleasant odors, problems instead encountered in other similar products of other brands.
The high quality of the materials used for this coffee machine guarantees a long life and reduces to a minimum the maintenance interventions.
Are you looking for Spinel Lolita coffee machines at the best price? Contact us! We are the suppliers with the cheaper price list ever, also about accessories and similars.
Call us at +39 0733288455, from Monday to Friday from 8.00 a.m. to 6.30 p.m., on Saturday from 8.30 to 12.30 a.m.
Or
Click here and send us an e-mail. You will receive response within 24 hours.