A funny and creative way to attract the costumers attention is to organize aperitifs or "apericene" in your bar! They are fashionable events, easy to prepare and always followed by different targets. So let's see how to organize an aperitif, without neglecting any detail!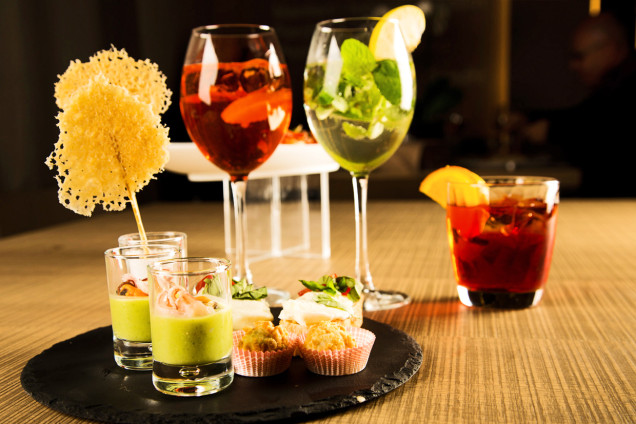 How to organize an aperitif: the event promotion
Whether it's a casual event or a standing appointment, your aperitif must be publicised! The word of mouth is always the best weapon, but at the beginning, especially before word gets around, you should follow a few steps:
speak directly to your regular customers remembering the event and asking them to bring friends and family;
prepare some poster to hang in your bar or some flyer with dates, times and (eventually) prices;
you can promote the event on Facebook, to engage the long-term followers and create a new circle of customers: add photos of plats and drinks which have to be sharp, bright and nicely colored.
How to organize an aperitif
The aperitif can be organized before lunch or before dinner: it's usually a quick and light meal, made for those who have not so much time to relax but at the same time don't want to give up something tasty.
You can try some classic cocktails or experience new tastes to surprise your clients with alternative proposals;
You can prepare hot popcorn or the classic chips, without forgetting of those who are intolerant to gluten or don't eat animal derivatives;
You can propose some toast or sandwiches served on colorful dishes, some pizzas or a quick salad may be sufficient to feed the guests of your aperitif;
Choose music that reflects the image of your bar and the type of people you want to attract (attention to the volume and times). If you don't have all the administrative permissions to get music, you can still use the music TV channel or a radio frequency!
How to organize a good "apericena"
The apericena combines the classic aperitif comfort with the tranquility of a dinner.
You have to make sure that there are orderly tables and chairs, with different kinds of condiments, plastic glasses and napkins;
You can propose some menus with different main courses or second courses, or some single courses;
You can draw inspiration from the Brazilian cuisine, with rice used as an accompaniment, or some oriental roll filled with vegetables. A single course should be vegetal: legumes, salad, fruit. Think about a special menu to satisfy the children tastes, with sauces and desserts;
You can delight you clients with a variety of sweet: a pie or ice cream cake, some cookies…you can take this opportunity to offer the brioche remained in the window, heated and possibly stuffed with some jam, toppings, chocolate;
The staff has to be perfectly organized between room and kitchen, in order to serve all in the most suitable manner: the tables are to be released promptly in order to be ready for other clients;
You have to explain clearly to your clients if it's a buffet aperitif or if you make a table service.
Don't forget the coffee!
After the "apericena" or a good aperitif, the coffee should never fail! It satisfies your clients' palate with quality mixtures. We may recommend you for example the Caffè Borbone supply fo bars: the aroma of these coffees, available in three varieties, makes an impression in the memory of those who tastes them. Your customers will be happy to recommend your bar to their friends!
For the client who prefer alternative flavors to coffee, here you can find the barley or ginseng supplies for bars: people will find their favorite drink and they will come back and see you at the first opportunity!
Are you a bar owner or do you want to open a new one? We have the best equipments, the best coffee and similars at the best price.
Call us at +390733288455, from Monday to Friday from 8:00 a.m. to 6:30 p.m., on Saturday too from 8:30 to 12:30 a.m.
SWe're at your disposal and we're glad to provide you all the information you need with our quality and best prices' guarantee.
Or